V98 Conformable Prismatic Reflective Tape (150' rolls)
Click To Enlarge
For maximum day and night time visibility we recommend our 1", 2", 4" or 6" by 150' rolls of Reflexite V98 Prismatic Reflective Tape. V98 is special in that it will stretch a little and conform over things like weld lines, diamondplate, and complex curves. This expands the function of the tape and makes it the perfect solution for a wide variety of visibility needs. V98 is tough yet easy to cut with scissors or an exacto. We carry:
FLUORESCENT LIME / YELLOW
FLUORESCENT ORANGE
RED
BLUE
WHITE

It is great for marking emergency vehicles, bollards, poles, gates, barricades, tractor trailers, loading docks, signs and more.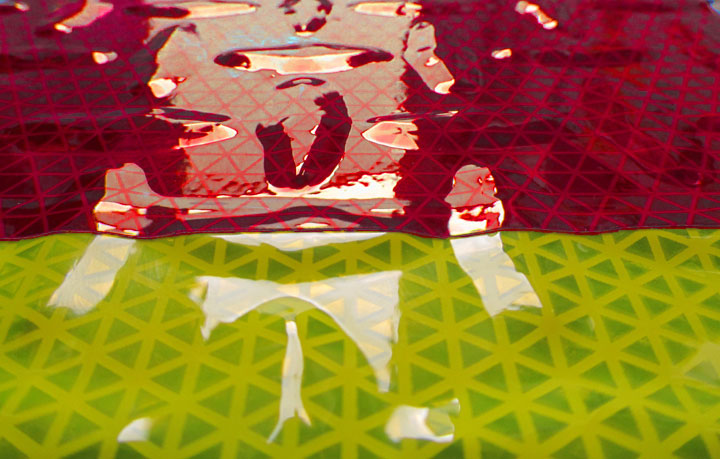 Reflexite V98 tape is about 7 times brighter than standard engineer grade tape and twice as bright as high intensity reflective. Light is reflected via micro prisms making the tape much brighter than glass bead type tapes. This allows the tape to be seen from much further away. Thousands of feet versus hundreds. Reflexite V98 tapes carry a 5-7 year outdoor rating. This tape is easy to handle and resists chipping and cracking. It is much more conformable than standard prismatic tapes and can be used on helmets and surfaces that have compound curves. The Fluorescent Lime or Orange are especially popular due their visibility in the day and night. They are both Fluorescent and Reflective which is what makes those two colors unique. To install simply peel the backing off the tape and apply to a clean surface. Then press on with a clean cloth or squeegee. Click here for a spec sheet.

Note - For chevrons on fire trucks the 6" material should be applied to create downward slanting 45 degree chevrons. The stripes should alternate from red to lime/yellow. Covering 50% of the rear of a fire truck satisfies the NFPA 1901 recommendations.

The V98 conformable grade carries a 5 year outdoor rating. A longer life can be expected when trucks are kept in a garage. Because it is bright day and night and easy to install, this tape is one of our most popular prismatic materials.
To order a V98 sample pack just email us at steve@reflectivestore.com with your name and address.
Click here to see a spec sheet on the V98 Conformable Sheeting.

Click here to view the NFPA 1901 Chevron Striping Requirement for 2009.
Click here to view general instructions on applying reflective tape.
We sell 1", 2", 4", and 6" widths in 150' rolls on this page. Prices are as follows.
1" x 150 foot roll - $109.99
2" x 150 foot roll - $139.99
4" x 150 foot roll $299.99
6" x 150 foot roll $419.99
For 30 foot rolls CLICK HERE.