Chevron Reflective Tape 6" x 150' NFPA 1901 (Prismatic)
Click To Enlarge
6" x 150' Rolls of Reflective Chevron Striping Tape. Easy to install. Just peel and stick to a clean, dry surface.

NFPA 1901 states that firetrucks and emergency vehicles shall have alternating yellow and red chevron striping applied to 50% of the rear of the vehicle. The 6" stripes must slant downward from the center at a 45 degree angle and must alternate red and yellow. Fluorescent Lime/Yellow and red V98 prismatic are also compliant.

On this page we carry 150 foot rolls of reflective chevron striping in four types or grades of tape.

V98 Prismatic Conformable (red and fluorescent lime yellow - both same thickness) - most popular!

V82 Prismatic Type 5 (standard red and amber yellow color - thin and bright)

Crystal Grade Type 8 (standard red and amber yellow color - thick and brighter)

All are compliant with the NFPA 1901 standard. You can select which grade you would like by using the drop down menus above.

For treadplate applications we recommend going to www.reflectiveshapes.com

All of our reflective chevron striping materials meet the minimum standards for chevron striping established by the NFPA. The minimum requirement is Type 1.

1. Our "V98 Conformable Prismatic" has quickly become our most popular tape for creating chevron striping. It features a repositionable adhesive combined with conformability. It is flexible and does stretch a little. The yellow is actually a fluorescent lime yellow and is much brighter than the standard school bus yellows. It is extremely bright day and night just like the V92/97. 6" x 150' rolls run $419.99.


2. Our "V82 Prismatic" tape is a type 5 film and is a little brighter than the V92. It also has a 10 year outdoor rating versus the 5-7 year rating for the V92. It is a thin, flexible film and performs very well. It is flexible but does not stretch. It is Reflexite's top of the line reflective tape and performs well on smooth surfaces. 6" x 150' rolls are $419.99 each.

3. Our "Crystal Grade" tape is a very thick and tough tape that is often seen on the brightest street signs. It is a 10 year type 8 film and is the brightest of all the chevron striping tapes. It is roughly the thickness of a guitar pick and performs very well on flat, smooth surfaces. It is not thin like the Reflexite films but is very bright. 6" x 150' rolls are $499.99 each.

Click here to view the NFPA 1901 Chevron Striping Requirement for 2009.

Reflective Tape INSTALLATION INSTRUCTIONS




To install simply peel the backing off the tape and press the tape firmly onto a clean, dry surface.

All of our chevron striping rolls are 6 inches wide. 150 foot rolls are available on this page.
---
V98 Conformable
---
V82 Prismatic Type 5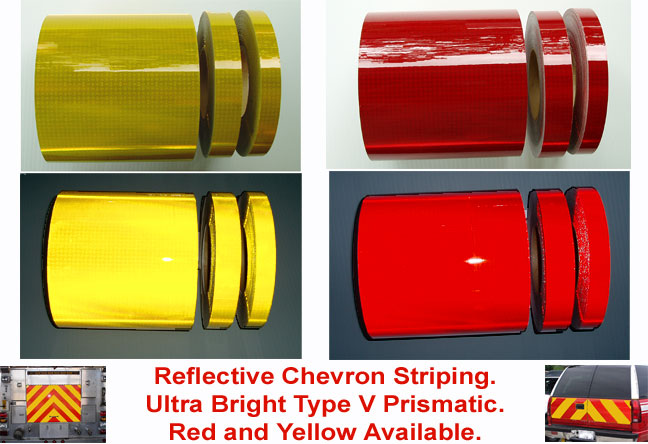 ---
Crystal Grade Type 8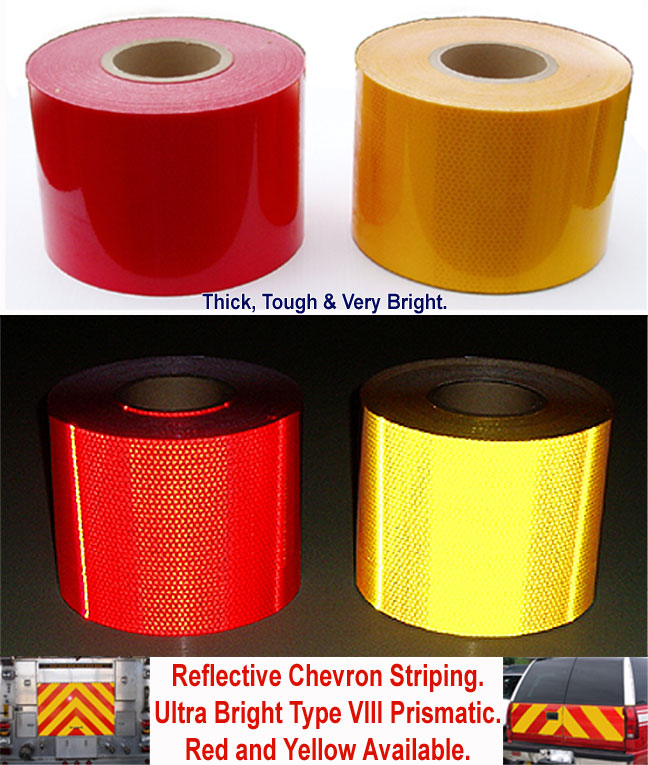 Please note that the V98 yellow is a fluorescent color meaning that is it much brighter than the other grades. It is bright lime yellow whereas the other yellows are similar to a schoolbus color. For 30 foot rolls click here.